MISSION STATEMENT
Our focus is fertile, functional females with fabulous temperament and a great approach to life who will pass on these desirable traits to their offspring.

Our mission is to develop a herd of purebred Maine-Anjou and Maine cross cows that mature early, breed easily AI, calve annually without assistance, and rebreed without difficulty. We strive for consistently excellent temperament and high fertility, not consistent color or phenotype. We want cows that are structurally correct, pleasing to look at, long lived, with a great approach to life, and a pleasure to work. We expect cows to allow us to handle calves with a minimum fuss and expect cows to accept handling in the field. We put a premium on temperament, fertility, and health.
THE COW CONTRACT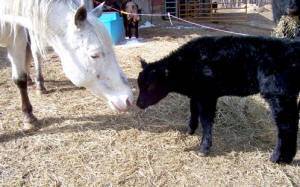 Like any successful business arrangement, we have certain expectations of our cows and they have certain requirements of us. For our part, we provide our cows with a great bovine life. They exist in a low stress environment with low stress handling. Weather permitting, cows have access to rotational grazing for 7 or more months per year; however, it is Michigan, so we do have to feed hay for part of the year. This year we grazed into November and cattle maintained condition and calves grew well.
Cattle have access to Crystalyx Brigade or Fescue-Phos year round. Cows receive a little grain whenever we work them – makes moving cattle a breeze! Our cows have a live-in veterinarian and access to 24-7 veterinary care, careful monitoring of heifers and close up cows, and aggressive management of newborn calves. Matings are carefully planned and we evaluate AI sires for calving ease, maternal traits, structural correctness, carcass traits, and EPDs. In 2007 we bred several heifers to the calving ease Red Angus bull Leachman Heavenly 8141. We were so impressed with the vigor and growth of these calves that we increased the use of Red Angus sires to include Buffalo Creek Hobo 1961, Crowfoot Ole Oscar, Choctaw Chief 373, and Red Hill Julian 84S.
We expect our cows to behave well, calve annually, and take care of their calves. With a closed herd we calve out and raise our own replacements. Sometimes we give a little slack to a cow with great temperament that may calve a little out of synch or who (because of management errors) didn't get bred because we missed the heat!
We train our cows and calves to come when called and to move easily through the barn and into the chute or stand when tied. We expect our cows to understand the difference between a coyote and a stockperson, and to act appropriately. We vigorously cull for aggressive behavior with malice. Life is too short to deal with bovines with a bad attitude, no matter what pregnancy they are carrying, what bloodlines they have, or what phenotypic characteristics they display. Cows that break the contract find themselves on the truck. We do not sell our cull cows to other breeders.