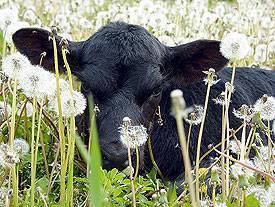 Our goal is to provide our customers with the animals of optimum health, excellent temperament, maximum longevity, and minimal risk of infectious disease. We are Michigan's only TB-Accredited Free, Brucellosis Certified, and Johne's Level 6 Herd. Our cow herd tests negative for BLV (bovine leukemia virus). In addition, our cows are free of the lethal genetic defects TH (tibial hemimelia), PHA (pulmonary hypoplasia with anasarca), OS (osteopetrosis aka marble bone) and MA (alpha mannosidosis). We guarantee all our calves are free of these defects. Few herds across the entire country have achieved this elite herd health status.
HERD HEALTH
Closed herd: We maintain a totally closed herd and our herd has been closed since 1998. This means that no animals enter the herd - period. We made the decision that the best way to enhance our genetics while protecting the health of our herd was not to buy cattle, but to purchase foundation Maine-Anjou and Red Angus semen and elite embryos and flush our excellent cows. Prior to 1998, all purchased animals were tested for bovine tuberculosis, persistent infection with bovine diarrhea virus, bovine leukemia virus, and Johne's disease. Prior to entry to the herd, new additions were vaccinated with bovine respiratory diseases and leptospirosis and quarantined for 30 days.

Breeding: All heifers are bred AI, with particular attention paid to calving ease for heifers. Cows are bred primarily off natural heat but also a variety of different synch programs. We ultrasound our cows - for early diagnosis of pregnancy, twins, as well as fetal sexing.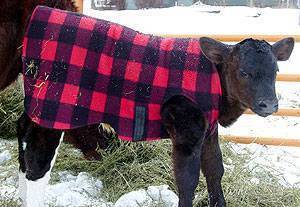 Calf care: : Close up cows are brought up to the barn and have access to a deeply bedded 40 x 50 pen and 1-acre lot. Cows calve in 12 x 24 pens. Pens have dirt floors and are cleaned, limed, and covered with lots of fresh straw. Prior to calving, the cow's udder and vulva is clipped. The barn is a 90 x 60 structure with a roof and a west wall (no north or south walls) that abuts at a 90 degree angle an 80 x 40 "old barn" that has the chute, machine and hay storage, office, and an alleyway. The ventilation is excellent, and cows and calves are kept out of the wind by tarps and plywood panels hung on gates (which are removed in spring, summer and fall). The combination of excellent ventilation and vaccination program means we have zero problems with pneumonia. We calve out many of our cows in the dead of winter. We strongly believe that it is critical not only the calf's survival, but also for long term that the calf receive colostrum asap after birth and that the calf be warm and dry (the beauty of the calf warmer). All calves receive colostrum or colostrum replacer within 1 hour of birth. Studies have shown early delivery of colostrum provides the optimum time for absorption of antibodies. Studies have also shown that warm calves absorb colostrum better than cold calves. Thus for immediate and long term health we put a premium on the getting calves warm, dry and full of colostrum within the first hour after birth.

After birth all calves receive an injection of vitamins A, D, and E, selenium and a 7 way clostridial vaccine. Navals are dipped with 7% iodine. In miserable cold windy weather, calves are put into the calf warmer to get warm and dry and put in polar fleece coats. This year we experimented with a variety of ear warmers to prevent frozen ears. We believe the calf should use its energy to grow and develop immunity, not to maintain body temperature. This is particularly important when they are very young, as babies of all species don't regulate their temperature very well. Calves are tagged with Allflex custom tags that identify them as "KAISERCALF" and their herd identification, which corresponds to the year (2013 was the letter A; 2014 is B; 2015 will be C etc) of birth and the numerical order of their of their birth (first calf is 1, second is 2 etc). Calves are tattooed, either at birth or (depending on the weather) somewhat later with their herd ID and AMAA breeder ID (XX) or Red Angus ID (5XX).

We have few horned calves but all calves born homozygous for the horned gene are disbudded and receive receive analgesia and anti-inflammatory drugs to decrease pain and stress. Steer calves are banded early in life and receive tetanus vaccine as well as analgesia and anti-inflammatory medication to decrease pain and swelling. Calves are closely monitored. We have not had a problem with scours (knock on wood) so we do not use any of the scour vaccines. Calves have free access to their own space (NO cows allowed), deeply bedded in straw, with grass hay

Vaccinations: We have an aggressive vaccination program for both cows and calves. Cows are vaccinated annually with Cattlemaster Gold FP5 and 5 way Lepto and Lepto hardjo bovis. Cows are also vaccinated annually for rabies and clostridial diseases.

Calves are vaccinated prior to weaning with Bovi-Shield FP 5L5. After weaning, calves are boosted with Bovi-Shield and vaccinated for clostridial diseases. Steers are vaccinated with tetanus prior to banding. Heifers are Bang's vaccinated. Bull and heifer calves are vaccinated for rabies.

Deworming: All cattle are dewormed with pour-on (Cydectin or Dectomax) in spring and fall.

Magnets: All cows and heifers and all animals sold as breeding stock receive magnets in the fall of their first year. Any heifer who is unruly when we are placing the magnet fails the magnet test and is sold as a feeder

Mineral: Cows have access to Crystalyx Brigade or Fescue-Phos throughout the year

Annual testing for disease: Our entire herd is tested every year for bovine tuberculosis and brucellosis. Because we are Johne's level 6 (the highest level signifying the lowest risk of JD infection) we are on a two-year testing program for Johne's disease. Our entire herd tested negative for these diseases on every test

Necropsy:Any calf born dead or bovine who dies is necropsied. We do this not only because we have "bovine guilt" when any animal dies, but also because we need to know what we did wrong, what did we miss, was the diagnosis correct? We have never had a calf with TH (tibial hemimelia), PHA (pulmonary hypoplasia with anasarca), OS (osteopetrosis aka marble bone) or MA (alpha mannosidosis). The ostrich approach is not a good management tool! We want to know and then make appropriate changes if necessary

Testing for genetic defects:: In 2006 we tested our entire cow herd for PHA – all our cows test negative for PHA. A preference for older maternal genetics, luck, and not using popular AI sires combined to give us a PHA free cow herd. 
We only use bulls tested free for TH, PHA, OS and MA. Our embryo donors (Hardings Eloquence, aka Lamont and Kaisers Kumquat) test negative for both TH and PHA. We guarantee all our calves are negative for both these genetic defects.

We believe that TH, PHA, OS, and MA are bad for the breed, bad for our cows, bad for our reputation, and bad for the industry. Now that there are tests for both defects we will not use carrier bulls, nor will we use untested bulls. Furthermore, we believe that selling carriers for breeding stock is the WRONG thing to do, and we will not do it. (for more information on TH and PHA see articles).

While we love the temperament and maternal ability of the Maine-Anjou breed, we have not been particularly happy with many of the newer Maine bulls, consequently while we are continuing to use older proven Maine bulls we have increased the use of Red Angus sires. 

We are particularly happy with the heifers sired by Hobo, Oscar, and 84S.

FEDERAL PROGRAMS
Bovine TB: Our herd is bovine TB accredited free (#140339) and has been since 1999. This means that all animals in our herd test negative for bovine TB every year and have since 1998. This voluntary program is part of the United States Cooperative Tuberculosis Eradication program of the United States Department of Agriculture in cooperation with the state of Michigan.

Brucellosis: All heifers are vaccinated between the ages of 4 and 8 months for Brucellosis (Bang's Disease) with RB-51 vaccine. Our herd is a Brucellosis Certified Free herd (MIB1859). This voluntary program is part of the United States Cooperative Brucellosis Eradication program of the United States Department of Agriculture in cooperation with the State of Michigan.

Johne's Disease: Our entire herd has tested negative for Johne's Disease since we began whole-herd testing in 1998. Our herd is a Johne's Level 6. In 2010 the USDA changed the Johne's program and negative pooled fecal samples tested for Johne's by PCR allowed our herd to advance to Level 5; we repeated the process in the fall of 2011 which will allow our herd to advance to the "new" highest level – Level 6. This is the highest status attainable in the USDA Johne's Control Program. To attain this status we have complied with the federal requirements, which includes testing of all animals one year and older via an ELISA test and fecal testing of all adults on a specific schedule. We believe that Johne's disease is a devastating disease of cattle and that anyone who sells breeding animals owes it to their customers to aggressively deal with this disease. To our knowledge no other beef herd in the state of Michigan and no other Maine-Anjou herd in the US has achieved this elite level.
BULLS
Bulls –We have none (with the exception of one home raised bull who bred a few cows in 2013)! A.I. allows us rapid genetic improvement, is easier on the facilities, and eliminates the problem with sexually transmitted diseases. We try to match our cows with bulls that produce calves that are born unassisted, vigorous at birth, excellent gain on minimal input, fabulous temperament, excellent fertility, structurally sound and pleasing to look at! Most of the time we do just that!