CONGRATULATIONS!

Congratulations DANICA and BRUCE -
Class winners at the 2012 Ingham County Fair - Nice job!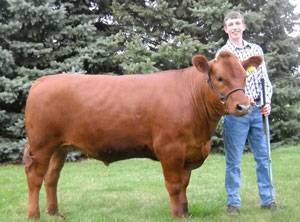 Congratulations to Josh, Red and the Markel Family for a successful year!
Congratulations to Josh Markel for a great job with the boys at the Michigan Beef Expo!

Congratulations to JACOB ROGERS - Grand Champion Steer 2010 Ingham County Fair. Sired by KAISERS TONI!

Congratulations Blake Marsh and his steer Kaisers Price is Right and Austin Rogers and his steer Kaisers Popcorn for a job well done at the 2005 Ingham County Fair. The calves looked great, grew well, and behaved excellently. Good job boys!
Michigan Winter Classic - A job well done by Blake and Austin!
Blake Marsh and his Maine Anjou calves Kaisers PolkaDot and Kaisers Price is Right, Austin Rogers and Kaisers Popcorn. The cattle looked great and behaved excellently! Congratulations Blake on a 4th place finish in steer showmanship and Reserve Champion honors in heifer showmanship!
| | |
| --- | --- |
| | Kaisers Norton (Rio x Little Eva) was the Reserve Champion Steer at the 2004 Ingham County Fair. Judge Dale Rains from Mercer, Pennsylvania picked Norton from a field of over 50 competitive steers. Norton weighed 1165 and was described as "structurally correct with plenty of gut" to get the job done in the show barn or the feedlot. Blake and Norton won their class at the competitive Maine show at Michigan Beef Expo B&B Junior Show, took Reserve Champion Maine steer at the summer show in Marshall and won his class at the Summer Show Case. Nice job Blake and Norton. |
| | |
| --- | --- |
| | Congratulations to Blake Marsh of Eaton Rapids MI and his 1st Maine heifer Kaisers Nutmeg! Blake and his purebred Maine calves Nutmeg and Norton made their debut at the 20th Annual Michigan Winter Classic at the MSU Pavilion in East Lansing. Almost 1000 head were shown in the 2-day event. Blake and Nutmeg (Topper x Kaisers Kiwi) were 2nd in class to the Reserve Champion Maine-Anjou heifer in a highly competitive Maine show. Blake was also Reserve Champion Junior Showman with Nutmeg. Nutmeg won her class at the Summer Show case. Good job Blake! |
Congratulations to Chris Howard and Kaisers Morning Glory on their black heifer calf. Also to the Zeiglers and Kaisers Magnolia (Maggie) and her heifer calf. Everyone is reported to be doing well!
Congratulations to Dirk Stoneman and Kaisers Morty for winning their class at the 2003 Gratiot County Fair where almost 100 head of steers were shown. Morty was purchased at the 2002 Top Cut Sale.
Congratulations to Kacey Hermans and Kaisers Lilliebelle
for their Champion Market heifer win at the Middle of the Mitten Show.
Congratulations to Kaisers Jellybean (aka Stinky; Artic Power x Lamont) for being the dam of two Reserve Champion Maine-Anjou heifers. Minty (Stinky x Impact) was Reserve Champion Maine heifer at the Pennsylvania Junior Maine Show in 2003 and Niblet (Strictly Business x Stinky) was Reserve Champion Maine heifer at the Tri States Classic, 2004. Stinky is owned by Nebo Ridge Farm, PA.
Congratulations to Kaisers Munchkin and Spin City for their first calf Les!
Munchkin and Spin City are owned by the STJ Ruffing Cattle of Ohio.